Top posting users this week
Most active topic starters
A friend asked me to help her come up with some inexpensive crafts for her church's VBS program. She and her husband are in charge of the VBS program but the church only has $500 to spend on EVERYTHING including the curriculum. It's a Southern Baptist church and are told which curriculum they must use by the church association or whatever you call it. Anyway the curriculum will cost them $150 before tax and S/H. The craft kits the company sells are just too expensive for them to purchase so we've come up with some of our own.
The first butterfly is made with a coffee filter, a clip clothespin, washable markers, bumpy chenille and glue dots. These will be made by the kids in grades 1-6.
The second butterfly is a diecut that the Preschool-Kindergarten kids will make. They will color them before attaching them to the clothespin with glue dots.
Both butterflies will have a magnet attached to the back of the clothespin.
The other project is a suncatcher made with diecut coffee filter leaves colored with washable markers and spritzed with water to make the colors bleed. The leaves are glued to clear overhead projector film sheets that are glued inside diecut cardstock frames.
Sorry I can't rotate the pictures.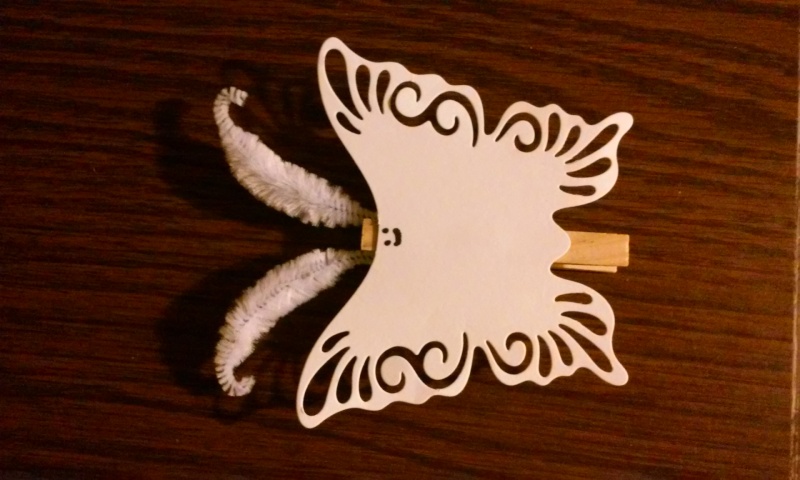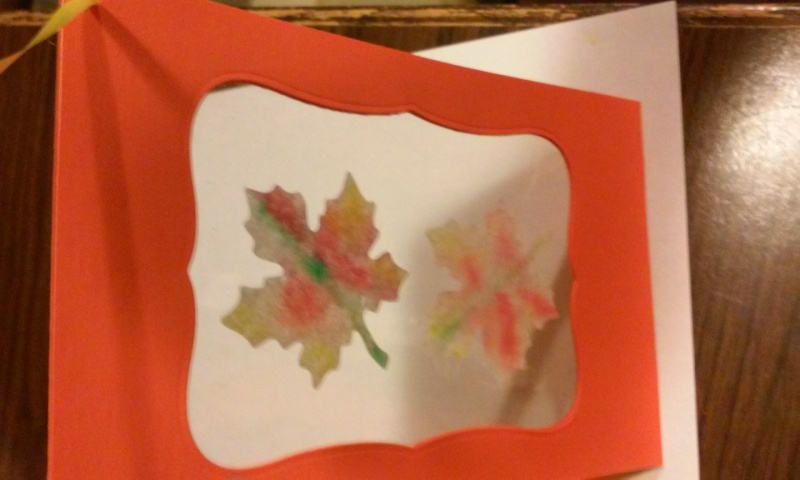 Last edited by PATRICE IN IL on Sun Feb 22, 2015 11:54 am; edited 1 time in total

PATRICE IN IL

Admin




Posts

: 5377


Join date

: 2011-01-25


Age

: 54


Location

: Northern Illinois



We are also making chalkboards with plywood painted with chalkboard paint and craft foam sheets cut into frames with my die cutter. They kids will decorate the frames with foamy stickers the church is purchasing from the place they are ordering their curriculum from.

We are also making travel tic tac toe games using a 12" square of dropcloth material, more of the foamy stickers used on the chalkboard project and markers to create the game grid and designs of their choice on their cloth. The game board will be rolled up with the playing pieces(foamy stickers) in a snack size zipper baggie and tied shut with twine or yarn.

They will also be making paper bag journals that will contain the week's worth of Bible verses printed on cardstock and decorated with markers. Those will be made on the first day so the kids can take them home to learn their verses for the rest of the week's activities.

Sorry I don't have any pictures of these projects. I'll try to remember to take some pictures as soon as we have some projects ready.
Last edited by PATRICE IN IL on Sun Feb 22, 2015 12:47 pm; edited 1 time in total

PATRICE IN IL

Admin




Posts

: 5377


Join date

: 2011-01-25


Age

: 54


Location

: Northern Illinois



Thanks FF
I'm hoping the kids will like them as much as I do.

PATRICE IN IL

Admin




Posts

: 5377


Join date

: 2011-01-25


Age

: 54


Location

: Northern Illinois



great ideas for sure, all we did when I was a kid was glue things to paper or finger paint. Budget issues I'm sure.
_________________
Proverbs 28:19  He who works his land will have abundant food...
Genesis 1:29  Then God said,"I give you every seed bearing plant on the face of the whole earth, and every tree that has fruit with seed in it..."
http://christiancountryramblings.com/
I was in charge of VBS for years at my old church and I used to come up w/all kinds of crafts that were inexpensive, but went along w/the stories. And some of the stuff I was able to get people to donate. For instance, one year, the theme was the Wordless Book. There are 5 different colors to the book, yellow, dark (normally black or dark blue), red, white and the cover was green. The yellow was for the streets of gold. The dark was for sin which isn't allowed in heaven. The red was for the blood of Christ. The white was for the cleansing that we get from His death. And the green was for growing in Christ.

I don't recall now what all the crafts were that I came up with, but I recall the one. I was able to get some small, 4 sided pots donated as well as some flowers. The pots were green. One each side of the pot, the kids painted something in either red, white, black or yellow to go along w/the wordless book. For instance, they painted a dark heart and a white heart. Then, when the paint dried, we put potting soil in the pots and planted a flower in it.

dizzy




Posts

: 4019


Join date

: 2012-09-21


Age

: 59



Thanks for the nice comments and craft ideas. Not only am I working with a budget restriction, the crafts have to take no more than 10 minutes. This year's theme is "Journey Off the Map"

PATRICE IN IL

Admin




Posts

: 5377


Join date

: 2011-01-25


Age

: 54


Location

: Northern Illinois



---
Permissions in this forum:
You
cannot
reply to topics in this forum