Top posting users this week
Most active topic starters
Found this webpage today.. it's written for Scrapbookers, but it could apply to any crafter who needs to make a space and get organized..
From Messy to Clean:10 Tips from the Scrappers Challenge Messy Room Contest!STEP 1:
1. Large or small, any size scrapping space can benefit from organization. Large room or small room, messes seem to grow into the size room you have on hand. Having a large room doesn't protect you from having a mess. LOL So take heart if you have a small scrap space. If you keep it neat, you probably have just as much actual work space as your neighbor who has a whole studio! Strange but true! Regardless of the room size, don't feel sorry for yourself, just keep it neat and you'll be ahead of the game!
[/b]
Here's my organizational challenge. Toss quilts on the floor to change sheets, turn around, and VOILA! dogs have taken over! LOL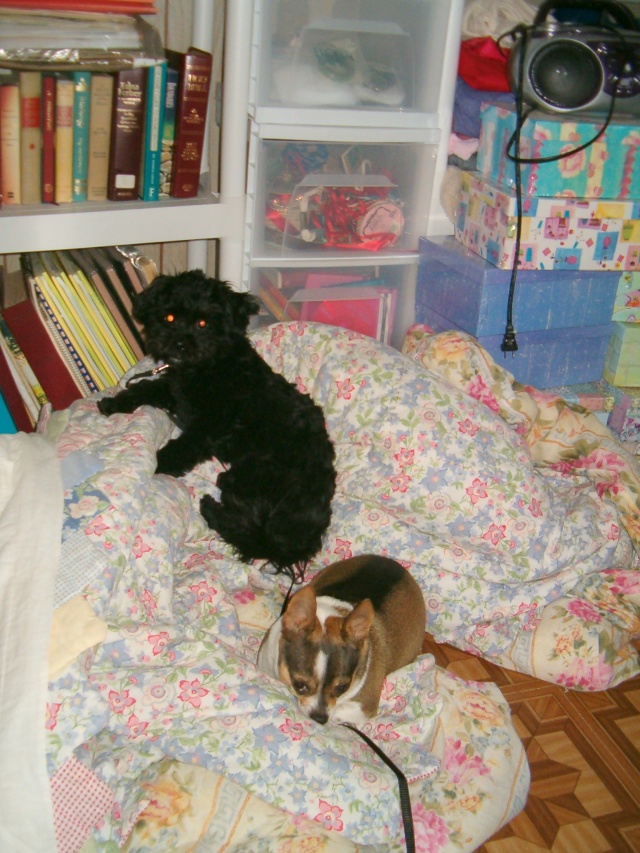 [i]
Last edited by Marie on Tue Jun 02, 2009 3:22 am; edited 1 time in total
Step 2. The floor is not a storage device. Why do we all seem to think the floor is a bookcase, filing cabinet, tool holder, paper sorting surface, and a trash collection point? If you catch yourself putting something on the floor--STOP!!!!!! 40% of the messes in the messy room challenges are on the floor. Not the shelving or the desk or the counters. hmmmmm This cannot be good for your back either! So just put things away as you go in the RIGHT spot--not on the floor until 'later.' Besides, you might trip on all that stuff!

OH!!! but where else do I pile up all the extra books, storage bins, bedding, videos? The FLOOR, of course! It doesn't help when I have extra bedrooms that seem to turn into junk collectors.. just closing the door and forgetting about my stashes.. But I love all my STUFF! lol

...and extra beds are good for building mountains too. I am not organized at all!
LOL I love your comments. Doing children's church I always end up with tons of stuff I carry to and from church. When I get home from church everything ends up in my office, but not in the cabinets designated for that purpose. Oh no. They end up in the bag I carried them in, you guessed it, on the floor. Then I wonder why my office is such a mess and I can never find anything. We don't even want to talk about the barn!!
---
Permissions in this forum:
You
cannot
reply to topics in this forum