Top posting users this week
Most active topic starters

Ok I had to share the good news. I just harvested 23 cabbages, 1/2 5 gallons of okra and not thru yet. Tomatoes, potatoes, lettuce and corn. The peppers are starting to make little baby peppers. The apple tree in back is starting to ripen and they are turning red.


Now I am going to be busy putting it all up. Tried to share the cabbages and every one I called did not eat it or had a few in their garden. That makes close to 50 for here. (Not planting that many next year.) I have it running out of my ears and am planning kimchi and kraut. Starting tonight after it cools off a little.
What a wonderful blessing! Isn't God truly gracious? He gives us a little seed and so much comes out of it. Gardening reminds me of our spiritual lives. We plant a little seed. If we just leave it alone, it will shrivel up and die. We have to water it (daily reading of the Bible), prune it (remove all the ungodly things in our lives), stake it (everyone needs to be uplifted and helped in their Christian walk to become stronger), weed it (don't hang around non-christians that will influence you and take away the "nutrients" you need to grow) and then we can harvest it to enjoy, produce more seeds, and be passed on to be a blessing to others with spiritual needs. I need to spend more time "growing" my spiritual life as well as my garden. Enjoy the fruits of your labor!

CajunMom




Posts

: 67


Join date

: 2009-05-11


Age

: 49


Location

: Louisiana



I like that statement above. It is so true.
I m sharing with family and friends( finally found some one to take a few). But my hands hurt so much from all that picking of potatoes yesterday and them pulling cabbages. But we will enjoy it and spread the love.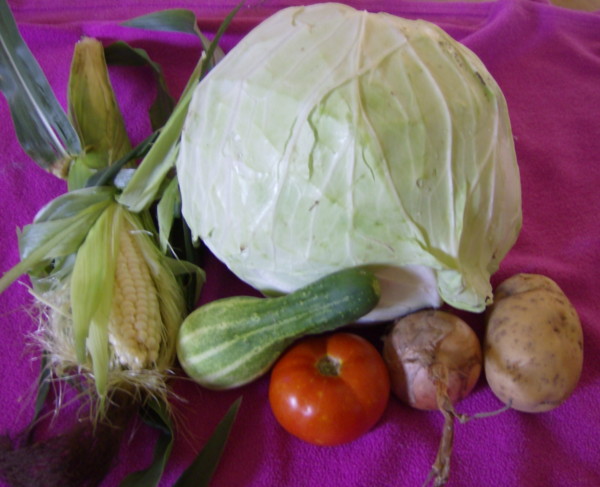 Here is a pic of everything but the okra. I forgot to put some of it in the pic.
Beautiful picture! It looks like the beginning of a vegtable soup to me! We harvested almost everything. We tried to start a second round but it has been too hot to go outside. The Good Lord brought us rain this past week so that has been a blessing. Enjoy your harvest!

CajunMom




Posts

: 67


Join date

: 2009-05-11


Age

: 49


Location

: Louisiana



We're just now starting to harvest. So far we have canned some collards, tomatoes and dill pickles. We'll have tons of beans and okra to can soon. So far we haven't gotten enough to really do much canning, but we've been eating very well off of the bounty God has given us. I figure we'll be pretty busy putting things up within the next couple of weeks.

_________________
Sonshine
He who cultivates his land will have plenty of food,
but from idle pursuits a man has his fill of poverty
Proverbs 28:19[b]


Similar topics
---
Permissions in this forum:
You
cannot
reply to topics in this forum