Top posting users this week
Most active topic starters

Here in Zone 3 we won't be planting for another 2-3 weeks. The greenhouses at various businesses just opened in the last week or so, and spring is finally making an appearance.
Here are a few pix of my garden and planting efforts - yup, they're puny, hopefully they'll still take off. My neighbor has a wonderful greenhouse, so that's Plan B lol..
Tomato plants in FiberGrow plantable pellets. I've never used these before, not sure it's worth it - the toilet paper tubes will probably work just as well! Rhubarb is just starting to make an appearance through its sawdust mulch.. Third photo - garden soil ready for planters, and house plants getting aired out on the back deck.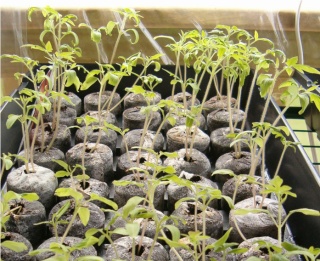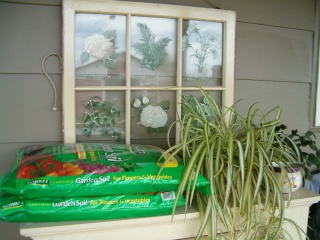 And I thought Eastern Oregon was late in planting. We just planted the rest of our garden Sunday (for the 2nd time) We always push it. Some years we can do it and some we get stung with a frost. This year, we had the cool weather stuff planted and then two weeks of great weather so we planted tomatoes, squash, cukes, peppers. Two days later, 29 degrees. All gone except for tomatoes in wall-o-waters. Then two days after the frost, its up in the 90's. So we went and planted everything again. This time I have a bunch of remay cloth to cover everything.

NativeOregonian




Posts

: 8


Join date

: 2009-05-13


Age

: 60


Location

: Eastern Oregon



Your rhubarb is looking good. And your tomatoes are just waiting to get in the garden. I used to use those peat things for my tomatoes but found out the newspaper pots with miracle grow is much better. Larger and greener.

NativeOregonian




Posts

: 8


Join date

: 2009-05-13


Age

: 60


Location

: Eastern Oregon



Thanks! I hear you about getting hit with frost, and then temps back up again.. You won't believe this, but Saturday we had snow in the air AGAIN! It's not usually like this, but we do have frost right into June.. Lots of people plant earlier here, but I don't think it's really worth it until the ground has warmed up....

Today I made newspaper pots and set the tomato plants in them, and filled them up with dirt.. thinned them out and planted the thinnings too.. Just hate to throw them out! I got about half done... They look much better this week than they did last week, they've really taken off.

What is remay cloth??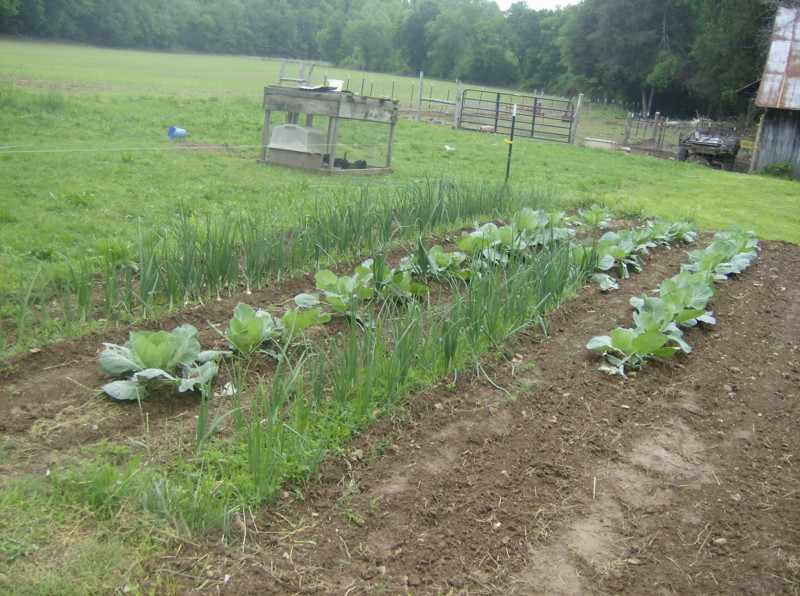 We have cabbages, onions, potatoes, tomatoe plants (one with little tomatoes on it), okra, squash, beans,corn, cucumbers, lettuce already in the ground. we have more tomatoes , peppers and peas to plant. It finally dried up here. We got hail damage on the cabbages and onions. The onions have small white dots on their stems. But they are doing good otherwise.
Amy,
Your garden is soooo pretty. I really have to get out there and get ours weeded. We've had so much rain that everything is growing, especially the weeds.

_________________
Sonshine
He who cultivates his land will have plenty of food,
but from idle pursuits a man has his fill of poverty
Proverbs 28:19[b]
Amy, your garden is so cute and orderly.. You have good soil there. We do not. Right here on our property we have a lot of clay, so a garden plot has to have lots of stuff added to it. We have old horse manure, and dh hauls in sand too.. But it's a challenge.

Thanks so much for posting the pictures! Kinda interesting to see the difference in zones!!
that was before all the rain. We weeded today after the funeral and worked on planting more. My corn is a mess I have to weed it this week but I have to get the house back in order and wait for the phone company. They sent one guy and a bucket truck today and he couldnt do it his self.
They sent one guy...
A good exercise in patience

How did the funeral go?
Variable temps..
Today's forecast is unseasonably cold: 45 degrees.
Tomorrow's forecast - unseasonable warm: 85 degrees



Similar topics
---
Permissions in this forum:
You
cannot
reply to topics in this forum