Top posting users this week
Most active topic starters
Here's a neat way to make your own seed starting pots:
.
This is a great video, and I wish I'd seen it earlier. I used a method on e-How, which used more newspaper and I kind of struggled with keeping the pots together until I got soil in them.. but here's what my small effort looks like today: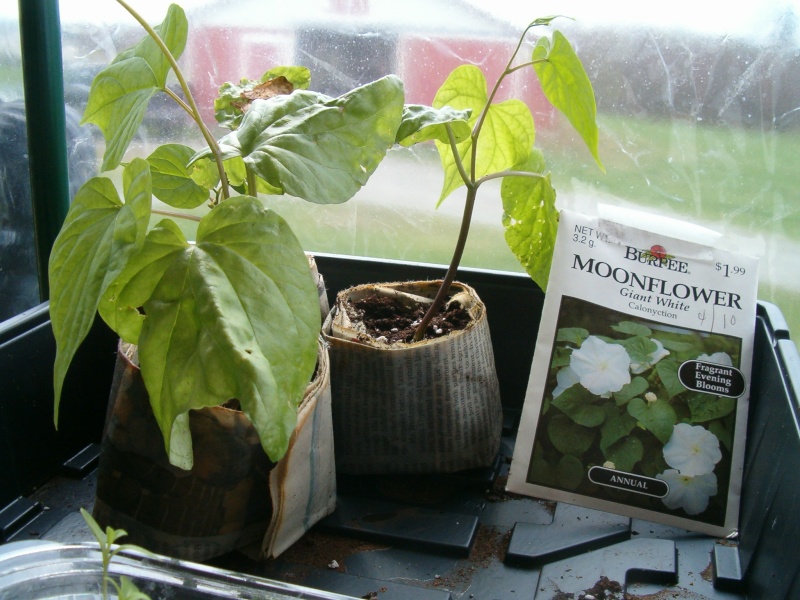 I just used toilet paper rolls. I cut them in half, cut slits in the bottom and folded it up to make little cups. Worked great!

_________________
Sonshine
He who cultivates his land will have plenty of food,
but from idle pursuits a man has his fill of poverty
Proverbs 28:19[b]
I actually saved a bunch of them - still have them in fact... but didn't use them after all - yet

Having a problem uploading a photo, but have it figured out now I think...
OH! there's the photo lol.. I uploaded it to Photobucket and it worked. Kinda scraggly looking but, that's my secret gardening technique, dontcha know ha!
I had bought one of the seed starting kits at Walmart this year, that have the peat moss in the little pots. But after seeing talk of using tp rolls, I thought I would give it a try. Then I found out that the containers we get our Chinese food delivered in holds those little tp pots just great. They have clear lids, so I set the lids over the container with the pots and let set to the side a little so air could get to it. Works as well as the ones you buy at Walmart.

_________________
Sonshine
He who cultivates his land will have plenty of food,
but from idle pursuits a man has his fill of poverty
Proverbs 28:19[b]
It's interesting to read about all the different methods people use.. There's really no right way or wrong way, just so many different ways. Kind of fun to experiment!
Speaking of "starter kits" at walmart, I was supprised to see everything but tomato starter kits! I would have thought they would have been top sellers, but most of them where for flowers.

No more garden than I put out I normally buy my plants. There is a lady in town that made her own green house this spring, she is selling tomato and pepper plants she started for 50 cents, they are pretty nice looking plants for her first year.

I like the news paper pot idea, I think I would use a couple of sheets per pot, but otherwise.

I think if you wanted to make the pots up before hand you could wet the paper it should dry stiff and make the pots stackable?

seagullplayer




Posts

: 44


Join date

: 2009-05-08


Age

: 52


Location

: Southern Indiana



That's a good idea..making them in advance and wetting them so they'd be stackable.. They would also dry into shape and not be so fragile. They make it look so easy on the videos, but I struggled with it - like I needed an extra hand ha!

The idea I used was using a whole sheet folded in half twice, it's much heavier.. and they recommended taking the plant out of the pot before planting because it takes awhile for the paper to disintegrate...

either way will work, or any variation of it. I like the idea that I can make bigger pots this way, and use them for the little transplants I have.

Good thoughts!!
I think instead of taking the plant out I would just tear out the bottom, so you don't disturb the roots too much.

_________________
Sonshine
He who cultivates his land will have plenty of food,
but from idle pursuits a man has his fill of poverty
Proverbs 28:19[b]

Similar topics
---
Permissions in this forum:
You
cannot
reply to topics in this forum